Wireless audio data transmission dual mode module F-3399 QCC3008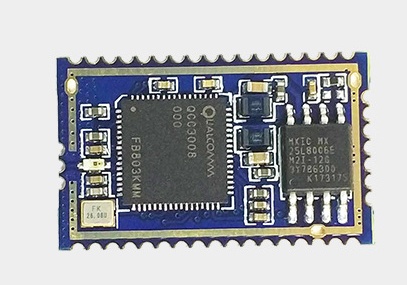 Parameters:
P/N: F-3339 V1.0

Bluetooth version: Bluetooth V5.0

Modulation mode: GFSK, π/4 DQPSK,8DPSK

Service voltage: 3.3-4.2V


Bluetooth protocol : A2DPv1.3.1,AVRCPv1.6,HFPv1.7,HSPv1.2 SPPv1.2,DID v1.3,HOGPv1.0,PXPv1.0.1 FMPv1.0,BASv1.0

Working Current : ≤20mA
Standy Current : <500uA
Temperature range : -40ºCto+80ºC
Wireless transmission range: >10 meters
Transmission power : CLASS1/CLASS2/CLASS3
≤
8dBm
Sensitivity: -80dBm<0.1%BER
Frequency range : 2.402GHz-2.480GHz
The external interface: PIO,SPI,AIO,UART,USB,I2S,MIC,LIN,SPK(L/R)
Support system : android,IOS and windows
Audio decoding output : SBC,ACC,APTX(QCC3008)
Audio: SNR ≥75dB
Degree of distortion: ≤0.1%
Module size :26*14*2MM
Product overview:
F-3339 is the Bluetooth module for intelligent wireless audio data transmission dual-mode products designed by our company . F-3399 also is the high end stereo audio Bluetooth solution with high performance. The main chip uses Qualcomm QCC300X chip, providing the high quality and best compatibility. Without any driver, you can connect the module with your device to enjoy the high quality music easily.
Main Features:
BluetoothProfiles
※ 80 MHz RISC CPU and 80 MHz Qualcomm® Kalimba™DSP ※ On-chip ROM, RAM,and,external QSPI flash memory ※ Link Layer and Dual Mode Topologies ※ Over the air updates of external Flash partitions ※ Wideband speech support ※ Stereo Codec ※ Stereo line input ※ SBC and AAC audio codecs support ※ 1-mic cVc headset NR/EC ※ Audio interfaces: I²S and PCM,analog and digital microphone ※ Fully configurable EQ: 6 banks for music enhancement; 1 bank for speaker ※ Serial interfaces:UART,USB 2.0,and I²C ※ Integrated dual switch-mode regulators,linear regulators,and battery charger ※ 1-mic Qualcomm® cVc™hands-free noise reduction and echo cancellation technology ※QCC3008 stereo flash programmable solution with Qua lcomm®aptX™audio